Web Copy Package
Typos and other errors can distract readers from your message, make you look less professional, and even lead to fewer sales.
If you're not a detail-oriented person, or you've just been staring at your web copy for way too long, you need an extra set of eyes to make sure you're putting your best foot forward. Even better, hire a professional set of eyes! I've been an editor since 1999, and I know all the ins and outs of proper grammar and punctuation and have an eye for inconsistencies—so you don't have to. (Check out these editing samples to get a feel for what I do.)
For a limited time, I'm offering a special package: three pages of web copy edited for just $100.
The Details
Long-form sales pages count as two pages. About pages, home pages, etc. typically count as one unless they are unusually long. When calculating how many pages you need edited, please consider whether your pages are of average length or are longer than the typical web page.
Turnaround time is typically 24–48 hours (or less) per three pages; I will confirm the turnaround time as soon as possible after I receive your files.
You can send links to content that is already online, and I'll copy and paste the text into Word and use tracked changes to make my edits. Or, if you're still working on the copy, you can send the Word file for me to use.
Fill in the form below with all the details and payment info, and we'll be on our way!
Questions? Contact me and I'll get back to you ASAP.
FREE Guide: 10 Essential Questions to Ask before Hiring an Editor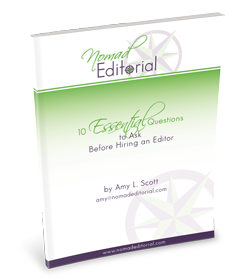 This free PDF walks you through all the important questions that will help you hire the best editor for you and your project.