Let's Get to Work!
Read more about my services by choosing the best option below or simply scroll through the page to explore everything I offer.
Coaching, feedback, and developmental editing provide the support and guidance you need to finally finish your book. Find out more.
My editing and proofreading services will help you refine and polish your writing so you can publish with confidence. Click here for details.
Nonfiction books are my specialty, but I enjoy working on everything from online courses to short stories. Contact me about your project.
Early in the writing process, things can get tricky...
You have plenty of ideas, but you don't know how to organize them in a clear, logical way.
The jumble of words on your laptop isn't magically transforming into a "real" book.
You know you want to write a book, but you don't have a plan or schedule to actually make it happen.
Getting coaching, feedback, and guidance while you write can turn the frustrating, lonely process of finishing your book into a satisfying and productive collaboration.
Coaching
If you're ready to finally finish the book you've spent forever thinking about, dreaming about, and maybe even writing and rewriting, you don't have to go it alone. In our weekly calls, we'll work together to make a plan, remove any roadblocks, and keep you on track so you can finish your book.
$600/month
Coaching + Feedback
Need not only accountability but reassurance that you're on the right track? Each week, you'll send me what you've been working on and I'll spend an hour reviewing it before our call. On the calls, we'll talk about what's going well and what can be improved, hash out ideas you're stuck on, and make a plan for the following week.
$1,000/month
Developmental Editing
As you begin to develop your ideas, you may be unsure about the best way to organize and present your material. Developmental editing helps you tease out the most important concepts, figure out the best format and structure, and receive as little or as much support as you want during the writing process. You'll soon be on your way to finishing a well-organized draft that clearly presents your ideas in an engaging way.
$135/hour
Through Amy's insightful questions, I discovered I was writing about a topic that was ill-suited for me, and we switched gears halfway through our coaching. Then, the new idea I crafted with Amy's help was picked up by my dream publisher!
Emily Bennington
Amy's coaching opened my mind to unanswered questions that already were inside of me, allowing my own words to flow through my writing. She also suggested simple exercises that helped me move past blocks and get back on track when I needed inspiration.
Jenna Lobos
At the retreat, Amy confidently and safely guided us through challenging and deeply personal journaling and writing exercises. I am ever grateful for the lessons that came out of our work together. If you get the chance, I wholeheartedly recommend working with Amy!
Marthe Hagen
The hard work is done: you've completed a draft of your book!
But the doubts are creeping in...
Is it any good?
Are my ideas well organized?  
Will this resonate with my audience?
How many embarrassing typos did I miss? 
Not only can I take care of those pesky typos, I will help ensure your ideas are well developed and organized in a clear, logical, and enticing way. I will eliminate distractions so your message resonates with readers. When you work with me, your writing will sound like you, only better.
Copy Editing
At Nomad Editorial, copy editing includes everything from offering suggestions on how to improve your book to cleaning up typos and grammatical errors.
6 cents a word for initial editing, $100/hour for optional additional review
Feedback
Sometimes you just want someone to tell you whether you're on the right track so you can wrap things up before getting into the nitty-gritty of grammar and punctuation. I'll read through your manuscript and provide my feedback on how the content is organized, whether it makes sense, whether the tone is appropriate for the content and the audience, where you can cut down and what could be expanded, and other suggestions for improvement—along with confirmation on what you're doing well.
$135/hour
Developmental Editing
Once you have a complete draft, developmental editing includes the type of feedback described above as well as back and forth and collaboration to revise, restructure, and refine your writing to create a fabulous final manuscript.
$135/hour
Proofreading
If you don't want in-depth feedback or suggestions for improvement but just need another set of eyes to do one final check for embarrassing mistakes, this is for you.
3 cents a word for initial proofreading, $100/hour for optional additional review
Editing and Proofreading Packages
For clients in need of editing or proofreading on an ongoing basis, I offer packages that provide regular access to my services (and, typically, a quick turnaround). This is ideal for frequent blog posts and newsletters, or when you're planning to be creating a large amount of content (say, for a new online course) in a short period of time. Each package must be used up within two months and a new one can be purchased at any time.
Proofreading Package: 5,000 words for $250; Editing Package: 5,000 words for $400
After many drafts, I couldn't see straight and needed professional help to improve my manuscript. Working with Amy was a collaboration. It felt like she was just as invested in my book as I was, which was a true gift.
Jean-Christie Ashmore
I couldn't wait to get Amy's comments back. She made the process fun, and the quality of the final product is far superior to what it would have been without her help.
Janis Bowersox
After Amy's editing, it really did feel like it was still my voice, but better. The emotion and poignancy were still there, but my thoughts were now subtly structured and organised for ease of reading.
Tamsin Coates
Let's get started!
I'd love to hear more about your project and discuss how we can work together.
Send a message
FAQs
How do you work with clients?
My goal is to make the writing and editing process easy, fun, and rewarding. I understand how scary it can feel to show your work to an editor, and how difficult it can be to receive feedback and constructive criticism. Don't worry: I'm on your side!
I occasionally talk with prospective clients on the phone so we can both ask questions and see if it's a good fit, but with many clients we successfully collaborate via email throughout the entire project. Once we've established the parameters of the project, I'll send you a contract (which you can sign digitally and return) and an invoice to pay the deposit (typically 30–50% of the total fee) to hold the space on my calendar. Note: Coaching is billed in advance by the month, and editing services at an hourly rate are billed at the end of the month or the end of the project, whichever comes first.
During the editing process, most of my communication with clients is via email, though sometimes a phone call is more effective for hashing out whatever they're stuck on, especially if they're still in the early stages.
I prefer to edit in Microsoft Word using tracked changes, and I also proofread PDFs using Adobe Acrobat. To accommodate some projects, I've worked in Pages, OpenOffice, or Google Docs, and have even made changes to websites directly via WordPress. For most projects, I provide feedback via email. For coaching clients and those I collaborate with in the early stages of writing their book, we may agree to discuss my feedback on their writing via phone/Skype.
What is your editing style/philosophy?
Sometimes people ask me, "If we worked together, how would you approach my work? I have a particular style of writing, and I don't want you to take away my voice." I don't blame writers for being protective of their writing. They found the courage, time, and words to spread their important message, and they don't want anyone getting in there and messing everything up!
My work incorporates a lot of different techniques, but they're all focused on achieving just two goals: for your writing to sound like you, only better, and for your message to be easy for readers to understand.
Sure, I can fix your dangling modifiers, explain when to use an en dash, and clean up your spelling. But that's not all. I see myself as a champion of ideas, here to support the work you do that's going to change the world—and your own life and business. And I want to ensure that the ideas you're presenting to the world are the best, brightest, awesome-est they can be. Did you see that? I'm not above making up words. Or starting sentences with "and."
I get it: when you're passionate about something, sometimes you just gotta break the rules.
But I also tell clients, let's not break all the rules. Sometimes they exist for good reason. Rules can make your message more understandable to those who need to hear it most, and they can help clear up confusing language that distracts from your brilliance. I'll help you figure out when to follow the rules and when breaking them will make your writing more powerful.
When should I hire an editor?
Hiring an editor is a great idea any time you need an extra (professional) set of eyes on your content, you want to ensure your work is top-notch, or you're just feeling stuck and need some feedback from an expert.
Some editors only work on content at specific phases of the writing and publishing process, so if you're in the early stages and need help determining how to structure your writing, for example, it wouldn't make sense to hire a proofreader who's only going to check for typos.
I work with writers at every stage, so whether you're feeling stuck or just worried about typos, I could be the right editor for you. If you're still hashing out ideas or cobbling together a rough draft, we can work together to figure out the best way to structure your content and clearly present it to your target audience. If you come to me with a final or nearly final manuscript, I can review it to clean up typos, grammatical errors, and confusing phrasing (and, if you wish, offer feedback on other ways to improve your writing).
What will an editor expect of me?
In my experience, there are a few things that clients can do to make everything go more smoothly.
Tell them what you want: Be sure your editor understands what you are looking for, your timing for completing the project, and any other expectations you have about working together.
Meet deadlines: Your editor likely has a full schedule, and if you are late sending your manuscript files at any stage in the process, it will throw things off track and your own deadlines for releasing your book could be missed.
Respect the editor's expertise: Though you're an expert in your field, so is your editor in hers. If she suggests certain changes to improve your work that you disagree with or don't feel quite right to you at first, remember that she's also working on behalf of your readers, and consider whether her suggestions will improve the reading experience.
Why not ask my mom/friend/VA to edit my stuff?
An extra set of eyes is always helpful, whether it's your mom, your best friend, or someone else who's offered to review your work for you.
But there are some downsides to relying on people who are not professional editors:
They may not be committed to sticking to a deadline, which can throw off your schedule or leave you in limbo.
They may not be the target audience for your content or they might not be able to put themselves in your readers' shoes, making their feedback less helpful.
They may not know, or care about, the finer points of grammar and punctuation.
If it's someone you rely on to do other work in your business, like a VA, asking them to take on an editing project leaves them less time to complete other tasks.
As you may have guessed, working with a professional editor like me ensures none of this will happen. I take deadlines seriously, I'm adept at putting myself in your readers' shoes (or I may even be part of your target audience), and for years I've been studying and applying the nitty-gritty aspects of grammar and punctuation that will set your work apart.
Hiring a professional editor is an investment that pays off by making you look more professional and giving you real confidence in the quality of the product you're putting out there. When you hire me, you benefit not only from my concentrated attention on your own writing but my years of experience working in the publishing industry, collaborating with writers, and editing a wide variety of content.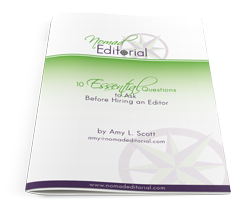 Download your FREE Guide: 10 Essential Questions to Ask before Hiring an Editor